Inspired by (okay, copying) Steven Garrity, I am documenting my life in cars. Unlike Garrity, I am a "car person," as my choices and accompanying writeups will indicate. And like Garrity, listing all the cars I've owned certainly brings back memories of where I was in life at the time.
While I'm feeling inspired (or plagiaristic) I too will do the executive summary he did:
I've owned five vehicles.
Two were manual-transmission, three automatic.
Across four decades I've stuck two two manufacturers.
There's been two sedans, two coupes and a wagon.
One was totaled.
Herewith, my cars.*
1986 Nissan Maxima (1990–93)
My first car was my mother's 1986 Nissan Maxima, a hand-me-down when I turned 17 and got my license. As a teen's first car, it was fine. It was actually pretty full-featured, since my mother bought it, complete with cutting-edge 1980s technology like a keyless touchpad for unlocking the doors and, critically, an early voice feedback system. Yes, I had the car that talked to you. "Lights are on." "Right door is open." "Fuel level is low." My friends loved it.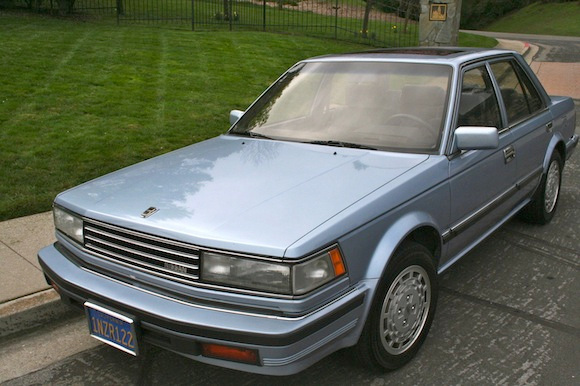 I never felt cool driving my Maxima, but I felt good; it was comfortable, upscale and smooth. I kept it until the transmission went (at only seven years old).
Sidenote: my mom replaced this car with a black 1990 Maxima, which was a fantastic car in pretty much every way, from the slick styling to the powerful engine (Nissan called it "the four-door sports car") to the unbelievable Bose audio system. My brother got that one.
1993 Nissan Sentra SE-R (1993–96)
When the Maxima gave up, I got to pick a car of my own, one that reflected what I wanted. And what I wanted was to have fun driving. I'd been reading car magazines since the age of 13, and from 1990 on, I was a Car and Driver subscriber, and I knew fun-to-drive was my main criterion.
Fortunately, Car and Driver had anointed a superlative fun-to-drive car, and an inexpensive one at that: the Nissan Sentra SE-R. Four times a C/D Ten Best winner, the Sentra was a two-door economy car that Nissan had decided to bestow with the engine from their larger and heavier Infiniti G20 luxury sedan, and they took pains to keep the car's weight down (no power windows or door locks!) to max out the power. It also had "a shifter that finds gears as if by divine guidance," which meant that I had to learn how to drive a stick to get the most out of it.
Which I did, thanks to my friend Mike and his indestructable Chevy Blazer four-speed, and off I went. It was everything I wanted in a car. It was cute, comfortable, practical, and yet an absolute hoot to drive. I had to crank the windows and lock the doors by hand, yes, but it had a moonroof, a good stereo, and narrowly mounted fog lights that looked like fangs.
This car made me love driving. I volunteered to drive all the time. I took it to 100 mph at 3 a.m. (sober, thank you) and got stared down by a sleepy cop on Route 322 in Ephrata, Pa. I drove three friends four hours to Yankee Stadium in it. I mounted a 6-disc CD changer in the trunk. I learned how to fishtail on purpose.
Then I totaled it.
1993 Nissan Sentra SE-R (1996–2002)
I got hit on the front left corner pulling out of a parking lot—not a major crash, but enough to set off my air bag (my left hand still has less hair than my right) and to knock the front axle into the engine bay, which the insurance company deemed not worth repairing. The car was only three years old.
So I flipped through the classifieds, and found my car, and bought it again: a used one, same model year, in pristine shape, and in fire-engine red. It was much cooler than my first one and drove just the same. I kept my upgraded SE-R for five years, learning how to deal with Manhattan street parking and enjoying every moment of it.
Sadly, this car also failed before it turned 10, and that was the end of my relationship with Nissan, which had moved away from fun-to-drive as a baseline for its cars.
2002 Audi A4 1.8T Quattro (2002–2016)
In 2002, I was living in Manhattan, so I didn't need a car. I'm a car guy, though, and I'm from New Jersey, so I couldn't not have a car, either. I lasted four months before deciding to get another one. My brother had also moved to the city, so we came up with a great idea: we shared one.
I was 29 and soon to be engaged, so it was time to graduate out of the car-as-toy that was the SE-R. My brother vetoed a manual transmission ("You want to keep dealing with a clutch in traffic at the Lincoln Tunnel?" was his winning argument), but I still wanted a car that was fun to drive, just more mature. A friend of mine had a 1999 Audi A4 that I adored; Car and Driver did, too, and they'd put the new model on their Ten Best list, which I knew was a green-light to a solid buy. So we got the A4, with Quattro all-wheel drive and Tiptronic shifting, and took turns with it, a few weeks with me, a few with him, winters in our folks' driveway in Jersey. It worked out remarkably well for many years.
The A4 was pretty terrific—easy to deal with in the city, yet comfortable for road trips and carpools, and it drove and handled beautifully, as hoped. We put 143,000 miles on it, deciding after awhile to just drive it into the ground, and by the time we finally gave up, refilling the power steering fluid every two weeks and putting duct tape on the leaky moonroof, my brother and I were each married with kids and pets, somehow still sharing the same car we purchased in the Pataki administration.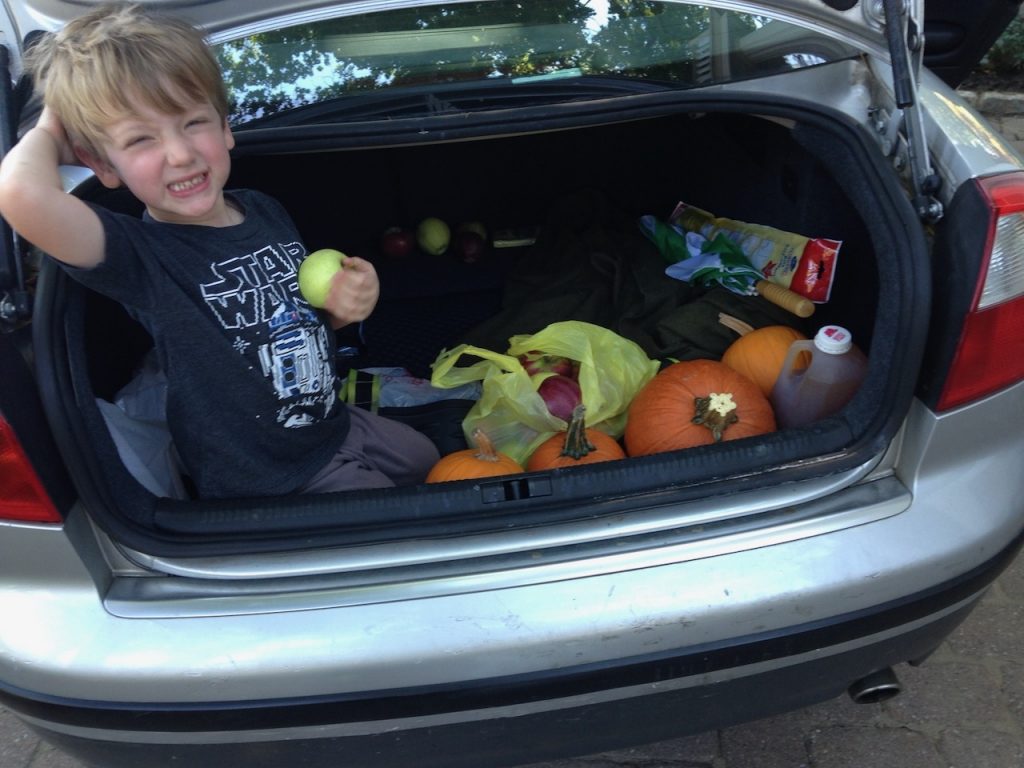 2015 Volkswagen Golf SportWagen SEL (2016–)
Now in my 40s with a family, we needed a capable yet practical replacement for the A4. I'd become an inveterate street parker over the years, so I wanted something small enough to toss around the Upper West Side; I still yearned for a fun car (and not an SUV); and we needed a bit more practicality for our family. Car and Driver's Ten Best didn't have any obvious candidates that summer. Then Amy came home one afternoon and said, "I saw the cutest wagon on the walk home," and we discovered the SportWagen.
We'd lucked into the right car for the moment: compact yet versatile, with a comfortable interior and a roomy cargo area, nimble and quick while getting great gas mileage (I've managed 40 mpg highway a few times). We'd backed into a Ten Best car after all: Car and Driver loves the Golf, every year, and this was the same driver-oriented car, only longer.
And for four-plus years, the sport wagon has done what it says on the tin. It's great fun to drive, it swallows a ton of stuff, it's short enough to fit into cozy parking spaces yet big enough that we drove to Florida in it last month (four people, one dog, tons of stuff) without leg cramps. Our one complaint was with road noise, which we successfully fixed before our epic road trip with a set of Continental Purecontact tires. We got it detailed today.
—
*My Car is also a delightful children's book that I read to my sons many, many times when they were toddlers. It's my favorite of all the early readers we enjoyed. And it's never too early to fall in love with cars.