For all the fuss about AT&T's new data rates (both pragmatically good and knee-jerk bad) the main point to keep in mind is whether those rates are actually good for consumers. For the most part, they are: John Gruber notes in his post that 98% of AT&T's users fall below the new 2GB monthly plan, and that even with overages these rates beat the competition.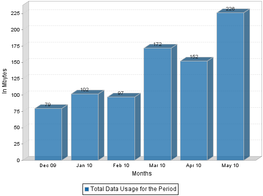 I'm a daily, heavy user of data on my iPhone 3GS, so I logged into my phone bill to see where I land. And lo, a surprise: not only do I not need unlimited data, I can actually drop down to the 250MB plan. Because I regularly use my home and work wifi, and I don't download much media, my 3G bandwidth usage has been 230MB or less for the past six months.
I like the idea of an open meter, and when I change plans, I'll probably switch to the 2GB/month plan, even if it costs me a few bucks extra. I will be happier paying $25/month and never hitting my limit than paying $15/month and worrying about, or getting slapped with, overages when I download some videos. Still, that's found money for me, and for 98% of AT&T's smartphone users.
One could gripe all day about AT&T's signal strength or its needlessly expensive text messaging plans. But its data plans are well considered and decently consumer-friendly, no matter how the blogosphere reacts.